Shape the Narrative for Group Travel Planners
As travel resumes in record numbers in an ultra-competitive market, state tourism offices are looking for an edge to recapture trade business. Increasingly, they are using custom publishing to reinforce their brand's strength and stand out among the crowd.
The latest example is custom itinerary guides developed by Leisure Group Travel. Started in early 2022 as a way for state tourism offices to reconnect their partners with trade channels, itinerary guides have quickly caught fire by providing a quality product that can be communicated across multiple channels along with a sense of brand permanency that readers are sure to remember.
"Itinerary guides are an ideal way to help set the path that you want readers to walk down and allow you to shape opinions of your destination and attractions," said Dave Bodle, Associate Publisher at Leisure Group Travel. "Thanks to expertly written content, professional design and done-for-you digital and print distribution, we're able to produce these guides turn-key for any state tourism office."
New itinerary Guide Published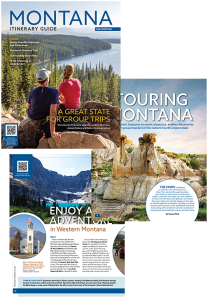 The recently released 2023 Montana Itinerary Guide is the latest example of a successful partnership in itinerary guide publishing for a state tourism office. Kim Birrell, Travel Trade Manager for the Montana Office of Tourism, worked with the Leisure Group Travel team to help create this quality product that will guide tour planners and promote key attractions and destinations across the state.
"Montana is filled with unique and authentic western experiences that many age groups and interest groups can enjoy," said Birrell. "I hope it will inspire those who are familiar with our state to take a closer look at some of our lesser-known areas and attractions for their group business."
The focus on curated itineraries puts ready-made trip ideas in the hands of tour planners, thus short cutting the planning process and facilitating quicker connections with destination marketing organizations and key attractions.
The Mississippi Itinerary Guide is another example of the power of custom publishing and its ability to forge industry partnerships.
"Visit Mississippi is very pleased with the Mississippi Itinerary Guide and its timely publishing," said Karen Gates Matlock, Domestic Group Tour Program Manager at Visit Mississippi. "It has been incredibly helpful when meeting with tour operators and being able to provide them with sample itineraries with suggested attractions in all regions of our state."
With 11 custom guides currently published in the leisure group market and a dozen ongoing custom publishing projects in the sports events market, the team at Premier Travel Media is ready to tackle any size project. If you're interested in learning more about custom itinerary guides, contact Dave Bodle.
About Leisure Group Travel
Since 1994, Leisure Group Travel magazine has been a leader in the group travel market. As part of the Premier Travel Media family of brands, Leisure Group Travel provides forward-thinking editorial, inspirational destination stories by professional journalists and customized content. Leisure Group Travel continues to stay up to date on the pulse of the industry, capturing the essence of the market and supporting growth in the group travel industry.