Student Travel is Getting Back on the Road
Student Travel Planning Guide, the trusted name in student tourism since 2009, has created a new and better way to capture returning school business! With the introduction of an all-digital "Back to Travel" edition in Spring 2022 that includes fresh ideas for schools set to reintroduce school trips again. With new ideas on every page, there's no better way to build back demand for your brand.
50,000 Digital Distribution
Target Audience
Directly to the inboxes of educations at the junior high and senior high school level in private, parochial and high-income school districts across the nation.
SEO and Social Marketing
3.5 Million Search Impressions
Reach educators as they are searching Google and Facebook.
Top 5 US States (Web Traffic)
California (10%)
Texas (8%)
New York (6%)
Illinois (5%)
Florida (5%)
We blend content and brand marketing to create an irresistible platform for our audience to discover your brand.
SAMPLE ITINERARIES
Show student groups what there is to explore in your area with a sample 3-day itinerary. Featured as a two-page spread, your custom-written itinerary spotlights student-friendly assets and activities and provides REAL ideas on what there is to see and do in neatly designed, timed and routed fashion.
SITE INSPECTIONS
Inspiring visual art and helpful tips laid out over a two-page spread introduce your best features to our student audience. Covering topics like where to learn, eat, play and stay, Site InSpections familiarize our audience with your company or destination much better than branding ads alone
SHOWCASES
Blending a half-page of sponsored editorial with a half-page branding ad, Showcases help tell your story and announce new exhibits and programs for youth groups. The best of both worlds!
E-NEWSLETTER AND WEBSITE BANNERS Capture the attention of visitors to StudentTravelPlanningGuide.com and the Insite on Student Travel bi-weekly e-newsletter with strategically placed website banners.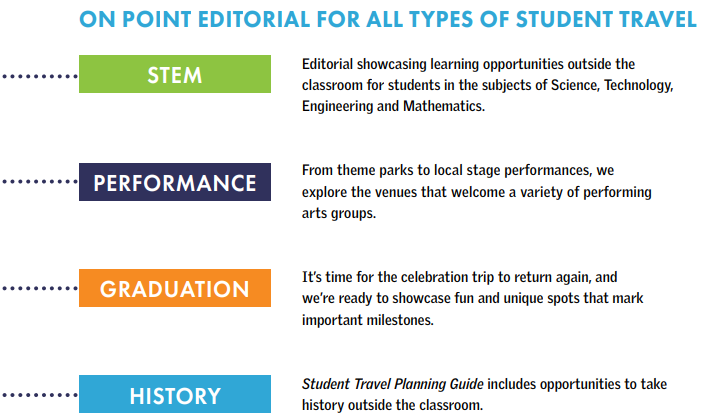 Learn more about Student Travel Planning Guide
We build a bridge to your best prospects through content marketing, digital advertising and the industry's only back-to-school guide. From the latest innovations to expertly crafted itineraries and time-tested tips from the pros, nobody covers the market like we do!

Use PTM to connect directly with buyers from the family travel, sports events, leisure group, film production, faith, international inbound and student markets!

Our publishing company has evolved by getting ahead of market trends, incubating new brands and expanding our services to support the needs of the diverse travel industry.