Print Marketing Capabilities Overview
Premier Travel Media's production team delivers stunning print and digital publications with powerful editorial focused on niche travel markets and hyper-focused destination content.
Our Print Channels
We concentrate on what matters most in the B2B travel space, making connections. Our publications and travel guides have gained a stronghold inside the offices of 100,000 leisure, religious, reunions, sports, film and student travel planners because of our commitment to deliver insider intel through the watchful eyes of experienced editors. With easy-to-read layouts, we're in high-demand online and offline.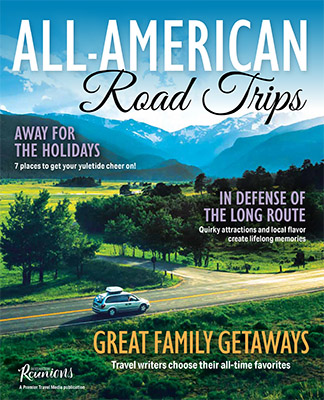 All American Road Trips
More Info
With print display ads you can place your brand message adjacent to relevant content. Select a market that matches your desired audience or run a campaign across all of our platforms. Advertising across the Premier Travel Media brands gives your business the best opportunity to be seen and create awareness of your group-friendly services.
More Info
We start by planning our editorial calendars around problem-solving content and search trends that continue to grow our audiences.
Next we leverage our editorial team to create native content marketing for your brand that best fits into a given calendar topic. We can showcase your destination and services with a Site InSpection or custom-built itinerary. 
Digital Edition Sponsorships
More Info
If you are looking to maximize your lead generation potential all of our print publications offers a single exclusive sponsorship which includes:
Your logo on the digital cover
A full-page ad on the inside cover of the digital edition
A special branding module on the primary page for that digital edition which includes copy, video and a clickable logo.
A trackable 728×90 banner ad placed in all the content pages for that edition
Branding across the entire download and delivery of the digital edition
LEADS – you get the contact information of everyone that downloads that edition of the guide.
Best of all, your sponsorship is PERMANENT, meaning your investment will continue to pay dividends year after year.
Your Partner in Custom Publishing
More Info
We develop print and online custom publications that wow group travel planners, plus we manage sales efforts and distribution to your target audience and ours. For associations, national tourism offices, state organizations and DMOs, custom publishing can be the answer to superior publications without the burden of producing brand-dedicated content in-house.
More Info
Accountability is our number one priority. Your campaign includes detailed reporting through our iTrack platform.

Each print magazine includes a service provider request card that delivers lead requests to advertisers through our iTrack lead generation platform.

Use PTM to connect directly with buyers from the family travel, sports events, leisure group, film production, faith, international inbound and student markets!

Our publishing company has evolved by getting ahead of market trends, incubating new brands and expanding our services to support the needs of the diverse travel industry.