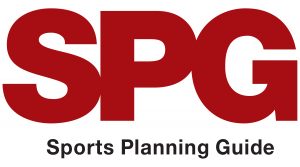 Enabling sports event professionals to make smarter choices about the locations they choose is the passion that drives the Sports Planning Guide team. SPG is the place where sports event planners find unique tournament locations that match their event needs with exceptional content about sports tourism destinations.
Profiling hundreds of facilities across the U.S. in our annual print guide and online SportsPlanningGuide.com, this is where relationships begin.
Distribution
106,000 – Print and Digital Readers
5,800 – E-Newsletter Subscribers
Largest Circulation in Sports Event Planning Industry
Target Audience
Sports Event Rights Holders, Governing Bodies, Tournament Planners
Print Edition Published
Advertising Deadline
Print: July 30

Online: 30 Days Prior to Publish Date
Newsletter Delivered
Learn more about Sports Planning Guide
We build a bridge to your best prospects through content marketing, digital advertising and the industry's only planning guide. From the latest innovations to expertly crafted events and time-tested tips from the pros, nobody covers the market like we do!
​
Build it, and they will come!
Cities that host sporting events can see economic benefits such as infrastructure development, outside investment and prestige. Even smaller events bring spectators with participants who boost revenue for local businesses and services. But to get into the game they must build facilities and hope that they will draw events that lead to a positive return.
Investing in sports event tourism is a long-term commitment and having a strategic marketing outreach program can mean hosting events that result in many years of increased revenue. Contact us about how Sports Planning Guide can extend your reach to key decision makers.
We put you in front of the right audience with expertly crafted content-based advertising. Written for you, Site InSpections tell your destination's story, while facility profiles show tournament planners where they can compete.
Digital display and video advertising are geo-targeted, so you're always reaching the right audience.

Use PTM to connect directly with buyers from the family travel, sports events, leisure group, film production, faith, international inbound and student markets!

Our publishing company has evolved by getting ahead of market trends, incubating new brands and expanding our services to support the needs of the diverse travel industry.